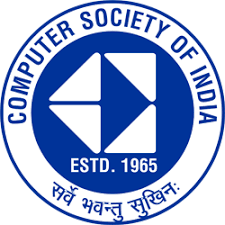 Computer Society India
Computer Society of India ( CSI) is the first and largest body of computer professionals in India. It was started on 6 March 1965 by a few computer professionals and has now grown to be the national body representing computer professionals.
Through the initiatives of Professor Rangaswamy Narasimhan, the first President, CSI has been in close liaison with International Federation for Information Processing (IFIP) its inception in 1965, when observers from India attended the IFIP Council meeting.
Vision
The Computer Society of India is a non-profit professional society and meet to exchange views and information learn and share ideas. The wide spectrum of members is committed to the advancement of theory and practice of Computer Engineering and Technology Systems, Science and Engineering, Information Processing and related Arts and Sciences.
Mission
- Facilitate Research, Knowledge Sharing, Learning and Career Enhancement among all categories of IT professionals.
- Inspire, nurture and assist students to integrate into the IT community.
- Percolate benefits of IT advancement to all sections of Indian Society.
Activities
Two Day Workshop on Visual Studio
24-07-2019
Game Development Competition
16-02-2019
"CODE WIZARD" – A Software Development Competition
16-11-2018
4 day Workshop on Android APP Development
05-07-2018
A talk on "Knowing the Industry, Being the Entrepreneur" by Mr. Shamnas M T
19-02-2018
A talk on "Crypto Currency" by Prof. Jithin P
02-02-2018
Four Day Workshop on Web Development by Prof. Jithin P
26-12-2017
CSI Student Branch Chapter Inauguration
26-10-2017
A talk on FOSS In Higher Education by Rajagopalan System Analyst , NIT Calicut
26-10-2017
Coordinators
Mr. MADHU K
Faculty Coordinator