Welcome to STM
St Thomas Engineering College, Sivapuram, Mattannur was established by St Thomas Educational Society, Adoor with a view to impart high quality engineering education through systematic studies and efficient training. The college has a team of eminent faculty members and a disciplined atmosphere which help to promote a holistic approach to learning. There is a right balance of cognitive, conceptual, ethical, humane and spiritual growth as a whole.
The institution within its short span of existence plans to be a centre of excellence in engineering education, by bringing out the young engineers devoted and socially committed.The college is approved by the All India council for Technical Education and affiliated to both Kannur University and A P J Abdul Kalam Technological University.
The college has been established in the interior area of Malabar with a view to cater the needs of engineering education in the north-eastern of the Malabar area, especially to people who belong to the backward communities, tribal communities and immigrant communities, who are otherwise deprived of qualitative higher education in their area. Nevertheless the college is open to all meritorious students from all over Kerala to benefit the best and disciplined Engineering education it imparts.
Our Vision
To be an Institute of repute recognized for excellence in education, innovation, and social contribution.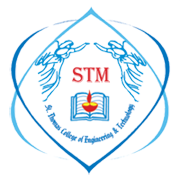 Our Mission
M1: Infrastructural Relevance Develop, maintain and manage our campus for our stakeholders. M2: Life-Long Learning Encourage our stakeholders to participate in lifelong learning through industry and academic interactions. M3: Social Connect Organize socially relevant outreach programs for the benefit of humanity.
Campus Life
St. Thomas College of Engineering & Technology is known for having a vibrant campus life. A student's enrolment into the institution offers diverse opportunities to enhance their intellectual, emotional, physical, spiritual, and professional abilities. They are encouraged to enrich their educational and leadership skills through involvement in department associations at the college, not being content simply with pursuing a program of study. One such opportunity to grow is through participation in department associations and campus life activities. The understanding of technical concepts taught in the class is further strengthened when they are applied in fun activities and competitions. STM is committed to the philosophy of supporting the development of students and strives to achieve this goal through the implementation of a diverse array of campus activities, and events.